Furniture Restoration and Creation
Aiko Van Hulsen designs, builds and restores fine furniture with the heart of a craftsman and the soul of an artist. His antique furniture restoration process begins with extensive historical investigation to fully understand the original maker, the process and the end result—the piece itself.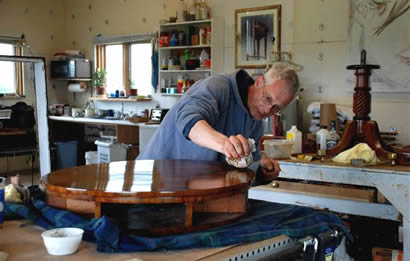 Impeccable attention to detail.
He researches and applies the tools originally used, the methods of making the finish coatings, paints, and inks applied, and even the conditions when and where the furniture maker lived. He also studies the piece from many angles and in different light situations to insure he thoroughly understands the effects of the environment on the piece. Aiko has been trusted to restore some of the finest and most delicate antique furniture. Learn more about the spirit of the furniture maker.