Preserving the Furniture Maker's Soul
Detailing Aiko's passion for excellence.
Where does the joy come from when one views a rare and magnificent piece of furniture? Is it immediately evident in its beauty? Does that joy come from a respect for the age and history of the piece? Or is it just the desire to touch something so robust that it transcends the ages? For Aiko Van Hulsen, there is much more. His love for restoring and preserving furniture is sourced in his roots, education, and a respect for the furniture maker's soul.
Quite possibly, the respect for old furniture started with Aiko's mother, Marguêrite Van Hulsen. Her French roots and talent created paintings that were magical and well respected. She is recognized with her own museum in France, and might have become more famous if not for the Dutch propensity to not promote themselves.
Aiko's abilities might also come from his Japanese heritage. His name, meaning "Love Child" in Japanese, came from an ancestor who was a shipwright in the 1460's. The Dutch were the first European traders with Japan at that time, and this man met and married a Japanese woman. They named their first child Aiko. Since then, there have been a long string of Aiko Van Hulsens in his family. top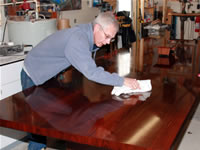 The product of these circumstances is a person who tries to capture the spirit of the original furniture maker when he takes on a new restoration. Aiko's process starts with extensive investigation, where Aiko will study the piece from many angles, in different light (ambient, UV, etc.), and other conditions. He will also spend time learning of the tools used when the piece was built, the methods in which the coatings, paints, and inks were made, and the conditions of the time in history in which the maker lived. top
There is joy when one sits and listens to Aiko while he dissects the history of a piece or while dismantling its ancient repairs. One example would be his recent discussion on the repair of a late 1700's Renter's Table: "Here we see that the furniture maker made a mistake. These three legs are solid maple - see how the grains match? This fourth leg is a maple veneer. That poor boy! He probably broke the fourth leg, and the furniture shop owner gave him a lashing. These woods were very expensive back then, so the owner probably had the poor kid make the veneer to match. Oh, my! ". top
This website presents Aiko's work and passion. It also provides you with the opportunity to explore your interest in the commissioning of Aiko to preserve your own piece of the furniture maker's soul. top